4 | VICTORIA MORAN – Founder/Director, Main Street Vegan Academy
Shownotes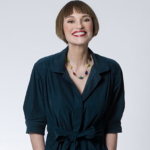 Victoria Moran, has been a Main Street Vegan® for 35 years ​and she held the title of Peta's Sexiest Vegan Over 50​. ​​She is the bestselling author of thirteen books, including Creating a Charmed Life (in 30 languages around the world); the gentle weight loss classic, The Love-Powered Diet, reflecting the author's own struggle with and recovery from compulsive eating; The Good Karma Diet, celebrating a high-green, high-raw, high-energy food style; the iconic Main Street Vegan; and her latest, The Main Street Vegan Academy Cookbook, coauthored with JL Fields. Victoria's college thesis became Compassion the Ultimate Ethic: An Exploration of Veganism, originally published in 1985 and the first work on vegan philosophy and practice to come from a major publisher.
Victoria is an inspirational speaker, corporate spokesperson, certified holistic health counselor (HHC, AADP), and founder and director of Main Street Vegan Academy which trains and certifies vegan lifestyle coaches. A graduate of the T. Colin Campbell Foundation/eCornell program in plant-based nutrition, she hosts the Main Street Vegan radio show/podcast, which got the Outstanding Vegan Media Outlet award in 2015 and Feedspot, in 2019, placed it as #3 in the Top 25 Vegan Podcasts.
She is the lead producer of Thomas Wade Jackson's new documentary, A Prayer for Compassion, to introduce vegan living to people of faith.
Cited by VegNews among the Top 10 Contemporary Vegetarian Authors, Victoria appeared twice on The Oprah Winfrey Show and she's one of the celebrity coaches for PCRM's 21-Day Vegan Kickstart. Her articles have appeared in Yoga Journal, Mothering, Natural Health, Woman's Day, Martha Stewart's Whole Living, VegNews, and Vegetarian Times. Her work has been noted in USA Today, the Chicago Tribune, the Washington Post, Self, Elle, Glamour, Allure, and O, the Oprah Magazine.
Moran lives with her husband, writer and musician, William Melton, in a LEED-certified green condominium in New York City's thriving Harlem neighborhood. They're co-humans to a rescue-dog, Forbes, and rescue pigeon, Thunder.
Victoria's mission: "Devote my life to healing people and animals and the the planet through food choices."
Victoria's one-line message to the world: "Eat kindly. Live wisely. Make a difference."
What on Earth?, Suzanne's crop circle documentary film
Prayer for Compassion documentary film
Peta: People for the Ethical Treatment of Animals
Veganism as a spiritual Lifestyle
Mistreatment of animals in the meat and poultry industries
Victoria's enlightened nanny
Victoria becoming vegetarian and then vegan
Yoga, Youth, & Reincarnation by Jess Stearn
Yoga for Americans by Indra Devi
Eating disorder, weight issues and yoga
Vegan lifestyle, beyond eating
Why people go vegan
Dean Ornish studies
B12 – the only supplement needed
Life as a spiritual adventure
Animal agriculture causing global warming
The only liberation movement in the history of the world in which the oppressed group cannot participate